Modified: July 7th 2021
Safety guide for content on Kahoot!
At Kahoot!, ensuring the online safety of our users is a responsibility we take incredibly seriously. To protect our community and our shared values, we constantly work to keep our platform safe and free from inappropriate content.
In this content safety guide, we'll give you insight into how we work with platform safety at Kahoot!, including how we moderate content. For details about our platform content policies and acceptable use, please see our Editorial Guidelines, Terms and Conditions and Acceptable Use Policy.
Content on Kahoot!
Much of the content on the Kahoot! platform is user-generated content, created and uploaded by our community of users from around the globe. In addition to this user-generated content, the Kahoot! team and our verified partners also provide content on the platform. Altogether, an enormous amount of learning material that's created by a vast and diverse group of contributors is available to our community.
Today, you will find more than 60 million public user-generated kahoots on our platform. These are kahoots that our users have created and made available to the public through the Kahoot! platform and app. There are also millions of private kahoots on the platform that are not available for the public.
We work hard every day to maintain a safe and playful community. Kahoot! is dedicated to protecting the integrity of our platform as a safe and fun environment that makes learning awesome for all of our users around the world.
How do we regulate content?
Our Editorial Guidelines, Terms and Conditions, and Acceptable Use Policy regulates content and use of Kahoot!. All users shall be familiar with these rules and comply with our standards for appropriate content.
Our Editorial Guidelines are designed to maintain the safety of the Kahoot! platform and ensure that it does not contain content that is harmful or illegal. The Editorial Guidelines apply to all contributors to the Kahoot! platform, including our verified users on Kahoot! Academy.
The Editorial Guidelines are based on Kahoot!'s four values: fact, safety, privacy, and dignity. Our values are the basis for the content that we want on our platform. Contributors to the Kahoot! platform and app shall respect our values and must not publish content that:
Contains or encourages violence or criminal behavior
May threaten the safety of our users or that may encourage unsafe or harmful behavior
Is illegal, discriminating, clearly inappropriate, or objectionable
Threatens the integrity and authenticity of our platform, including our kahoots, our users, and commercial content.
For more details, please see the full version of our Editorial Guidelines.
Our Terms and Conditions and the Acceptable Use Policy outline what is seen as acceptable use of the content on the Kahoot! platform and app. These are binding to all users of Kahoot! and dictate how our users may use and interact with the platform. This includes that users cannot publish or promote content that:
Is illegal, threatening, defamatory, harassing, degrading, intimidating, fraudulent, deceptive, invasive, racist, or contains any type of suggestive, inappropriate, or explicit language
Infringes on any trademark, patent, trade secret, copyright, or other proprietary right of any party
Contains unauthorized or unsolicited advertising
Impersonates any person or entity, including any Kahoot! employees or representatives.
The content regulations also apply to the nicknames that users provide to participate in a kahoot. Users shall not use nicknames that are inappropriate or offensive or that breach our rules for acceptable content. The host of a kahoot may disable the opportunity for participants to create nicknames by activating our nickname generator. We recommend that this is done if Kahoot! is used in an environment where nicknames can be used to cause harm, for example with a vulnerable audience.
User responsibility
Our users are solely responsible for the content they publish on Kahoot!. Kahoot! does not endorse the correctness of the content that is provided by our users or any opinion that might be contained in such content. The use of content from our platform happens on the user's own responsibility. We encourage our users to always review kahoots found on our platform before they are played.
For more details, please visit our T&Cs an Acceptable Use Policy.
How do we make sure that the content on Kahoot! is safe?
Kahoot! reserves the right to review, monitor, edit, or remove user content at our sole discretion. We may remove or disable access to any user content that breaches our policies, values, or standards, and we also have the right to suspend or disqualify users who don't respect our rules.
We have implemented several safety and moderation efforts to help us keep content safe, such as:
1. Moderation
Kahoot! has a growing team of trained moderators whose bespoke role is to filter out inappropriate content. We also use automated filter software to block or quarantine content that contains "triggers." This software operates on the basis of a comprehensive set of keywords that are often used with ill intent. We continuously work to improve this list to reflect the ever-expanding nuances of language.
2. Flagging
As we will never be able to control all of our content, we rely on our community to help us keep the platform safe. We encourage users to report illegal or inappropriate content. Any adult account holder can flag individual public kahoots for review, should they deem the kahoot to include illegal or inappropriate content. Content flagged by our users will be reviewed and assessed by our moderator team.
This is how you flag inappropriate content:
Step 1: Click the three dots next to the title of the kahoot and click on "Flag kahoot":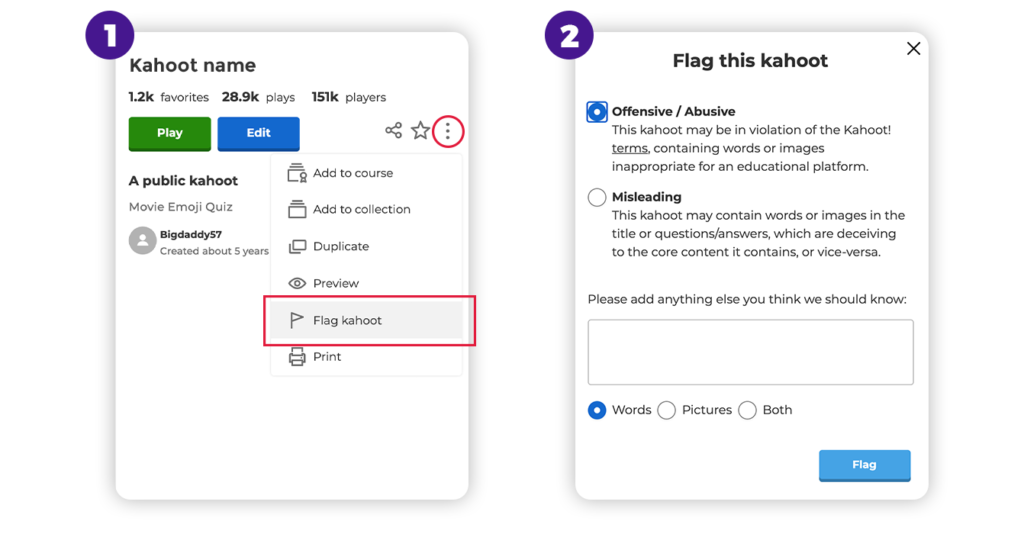 Step 2: Explain why you find it inappropriate and click "Flag":
Step 3: The kahoot is immediately flagged as "under moderation." Our moderation team will evaluate the kahoot and it will either be quarantined, made permanently private, or whitelisted. You can recognize that a kahoot is under moderation by the red strip displayed on top of the page:

Once a kahoot is whitelisted, it cannot be flagged again unless the creator makes changes to the kahoot. If changed, the flagging opportunity is reopened.
3. Customer service response
If any user finds content that they believe is inappropriate and in breach of our terms and conditions and acceptable use policy and either auto moderation or manual flagging is not available, please reach out to our customer service team, who monitor feedback 24/7/365, via our Customer Support contact form.
4. Nickname generator
Activating the nickname generator is a safe way to avoid inappropriate nicknames. With the nickname generator, a friendly nickname is suggested to the player instead of them creating their own nickname. Read more about the nickname generator and other ways to keep nicknames safe.
If you don't want to use the nickname generator, anyone hosting a kahoot can kick out participants when they use an inappropriate nickname. In the kahoot lobby, just hover over the nickname so it's crossed out and click to remove the name. Learn more
Two-step join
If you are experiencing bot players entering your kahoot, the two-step join is a good way to stop this. You can read more about the two-step join here.
Verified users
On the Kahoot! platform and app, you can find content from Kahoot! Academy's verified users, including content partners.
When our users apply to become a verified user on Kahoot! Academy, their profile and content is evaluated by the Kahoot! Academy moderation team. This includes checking alignment with Kahoot!'s Terms and Conditions, Acceptable Use Policy, and Editorial Guidelines. We also assess the overall accuracy and quality of the profile. When a user is verified as a Kahoot! Academy verified user, their content is marked with a red checkmark:

In addition to this, the verified user gets access to a unique, verified profile where other users can discover high-quality content that the verified user has created. Users may also connect with the verified user via the community features. NB: Community features are not available to young users due to children's privacy regulations.
The verification of users makes it easier to discover high-quality content on Kahoot!. However, it is not a guarantee that inappropriate content and irregularities may not appear. Therefore, verified content follows the same rules and guidelines as any other user-generated content on Kahoot! and can be moderated and flagged following the same processes.
If a verified user publishes content that breaches our policies or guidelines, their status as a verified user can be revoked and they can be excluded from Kahoot! in the same way as any other user. This applies to all verified users, no matter what user type they are, ranging from student, social user, teacher, business user, or content partner.
Questions regarding content safety
If you have any questions regarding content moderation on Kahoot!, please reach out to us via the Customer Support contact form.
For more information about safety and trust on Kahoot!, please go to trust.kahoot.com/.
To dive deeper into our Terms and Conditions and Acceptable use policy, please visit trust.kahoot.com/terms-and-conditions/
If you want to become a verified user or learn more about Kahoot! Academy, please go to kahoot.com/academy/join.